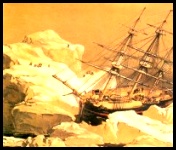 Where Are Franklin's Ships?

The ships of the Franklin Expedition, the "Terror" and the "Erebus", were prepared for travel in ice and had previous history in polar waters. Nevertheless, Sir John lost them. They've never been found.

Their last confirmed location is known from a message left behind - they were frozen in the ice off the northwest coast of King William Island.

One theory as to their fate is that, icebound, they drifted with other ice floes and icebergs, eventually exiting the Canadian Arctic archipelago into the North Atlantic. Could this happen?
• Each spring and summer the currents flush ice floes and icebergs out of the Arctic through Davis Strait and into the North Atlantic. If they can carry ice, they can carry ships frozen in ice.

• Franklin's ships were solidly frozen in - making it likely that they would have travelled with that ice when it started to move.

• The ships were the strongest ships in the world at that time, and therefore would stay afloat longer than other ships.

• In April of 1851 the English ship "Renovation" spotted two similar ships - one upright, the other heeled over - on a large ice floe off the coast of Newfoundland. The crew, not experienced with ice, were afraid to venture closer, so their identity was not confirmed.

• While on an expedition to the Arctic, the British ship HMS Resolute got stuck in the ice and was abandoned in 1854. Over a year later, an American whaling ship came across the ship in Davis Strait - it had freed itself and had travelled almost 1,200 miles / 2,000 km on its own.

MORE...
Click pictures for more information and credits.
Library: Arctic, Boats/Ships/Subs
Franklin Expedition, People/Explorers
Links: Arctic, Boats & Ships
Franklin Expedition
Arctic Maps & Weather Reports

Game: SEARCH FOR FRANKLIN