<!XXXXXXXXXXXXXXXXXXX LIST XXXXXXXXXXXXXXXXXXXXXXXX>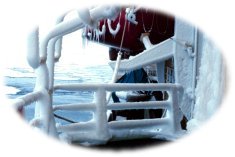 Ice on an icebreaker's deck.
Don't go around BRRfooted!
Photo: National Oceanic and
Atmospheric Administration

ARCTIC LIBRARY
Check out the BOAT / SHIPS / SUBS section. There's just about everything in this library that you'd ever need to know about the Arctic, listed both ALPHABETICALLY and by CATEGORY. Ideal for students. (Double-click any word on these pages for a "pop-up" definition.)

BOATSAFE KIDS
Almost everything a kid would need to know about boating is here.

KAYAK BUILDING PROJECT
Each year, students of Qaqqalik School in Kimmirut, Nunavut get involved in cultural projects. Building a South Baffin Kayak was one of them.

SUBMARINES SURFACE AT NORTH POLE
The tranquility of the Arctic was shattered on April 19, 2004 when the American fast-attack submarine USS Hampton and the Royal Navy submarine HMS Tireless surfaced at the "top of the world".

ICEBREAKERS
Great pictures and information about some very tough ships.

MAPS OF THE NORTHWEST PASSAGE
The Northwest Passage is a famous sea route linking the Atlantic and Pacific Oceans. It was expected to provide an alternative and shorter passage from Europe to Asia, but as the sea is frozen over for most of the year, this route is not very practical.

ARCTIC SUBMARINES
Some great photos of submarines and their journeys under the ice cap. (Look under Information > Other Links > Arctic Submarine Laboratory.)

SNOWBIRD 6
The Ice Challenger Expedition's unusual vehicle designed to drive across the frozen Bering Sea from Alaska to Siberia.

FREEZING A SHIP IN THE ARCTIC ICE
The ship was sitting here, 300 miles north of Prudhoe Bay, Alaska, for six months to better understand the climate of the Arctic. When its time on the ice was over, scientists knew more about how the Arctic works, improving forecasts of global climate.

ICEBREAKER USCGC POLAR SEA
Welcome aboard the United States Coast Guard Cutter POLAR SEA, the finest ship in the Coast Guard. You are about to embark on a unique experience. POLAR SEA and our sister ship POLAR STAR are two of the largest ships in the U.S. Coast Guard and the world's most powerful non-nuclear icebreakers.

NOAA ARCTIC IMAGES: BOATS & SHIPS
Just what the title says.

GET KNOTTED!
Animated instructions on how to tie knots. Great for sailors, scouts, and adventurers of all kinds.

ALL ABOUT PERSONAL FLOATATION DEVICES
Descriptions of life jackets and floatation devices.

LIFE JACKETS
Why do they float?

OFFICE OF BOATING SAFETY
The OBS delivers prevention-based programs to reduce the safety risks and environmental impacts of boating on Canadian waters.

CANADIAN COAST GUARD - ICEBREAKING PROGRAM
The bitter Atlantic winter weather can bring harsh challenges for ships navigating on the east coast of Canada. Two metre thick ice and six metre high ridges are common off the north-east coast of Newfoundland and in the Gulf of St. Lawrence.

ICE CODES
The Canadian Coast Guard site includes reference documents to assist ice chart interpretation, ice codes and atlases with historical ice data.

VOYAGE TO THE NORTH POLE ON AN ICEBREAKER
A personal account: "As I stood alone on the top deck in the 10pm summer daylight of northern Russia, it occurred to me that although Ihad done a few interesting things in my life, being on a nuclear icebreaker as it headed for the North Pole definitely qualified as the most unreal thing I had ever done."

ATHROPOLIS GLOSSARY (Athropolis)
See our pop-up boxes for: SURVIVAL SUIT, PORT and STARBOARD.