This model was constructed by Simeonie Aqpik.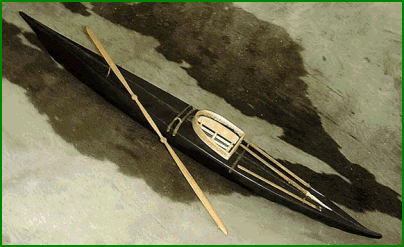 Between researching information in books and discussing with the community elders, two of our cultural instructors, Pits Qimirpiq and Pits Michael, a teacher Orvil Dillenbeck and his shop students, were able to reconstruct a South Baffin kayak.

The process took over a year and a half. Planning, research, and fundraising were only the start of what was to become an incredible journey of creativity, trouble shooting and many hours of hard work. All involved gained much respect for the elders and past generations who made these boats in much more difficult situations and with much less resources. Students and staff alike were quick to realize that the building of such craft took patience, resourcefulness, strength and ingenuity - not to mention a great sense of humor to help the long hours of labour.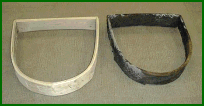 An old frame helped in visualizing shapes and size of many parts such as the keyhole and deck. This old frame (left) has been housed in the old school for years and was salvaged when the new school was built (1992/93). It belonged to the Akavak family.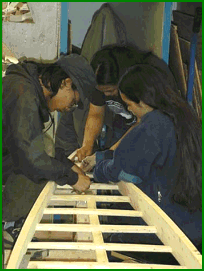 It is important that each part fits tightly with one another to help with the overall rigidity and fluidity of the kayak. As well, the overall balance of the structure was important as to keep a uniform stress of the skins' pressure as they dried over time.
The ribs were taken from an old wooden boat, after being cut to the needed size and drilled to accommodate the sinew joints. Dexterity and patience were used to tighten each rib on both sides of the kayak.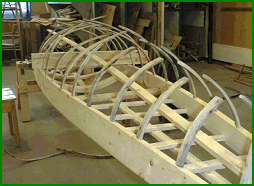 The structure finally took shape, and all agreed that the shape closely resembled the South Baffin Style Kayak. We did not use seal skins for the cover as real skins would have dried too much inside the Visitors' Centre and would have ended up crushing the structure. So we used a black vinyl cover that a local lady, Akeego Killiktee sewed. The interesting aspect of this is she sewed it in a manner so that it can open in front of the keyhole so anyone interested can look inside to view the wood frame.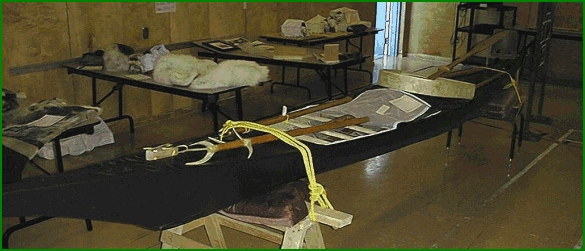 Once completed, the kayak was donated to the Visitors' Centre situated beside the school for community members and tourists to view.