<!XXXXXXXXXXXXXXXXXXX LIST XXXXXXXXXXXXXXXXXXXXXXXX> ARCTIC LIBRARY
Check out our ARCTIC ANIMALS, BIRDS, POLAR BEARS, WHALES & FISH and SLED DOG sections. There's just about everything in this library that you'd ever need to know about the Arctic, listed both ALPHABETICALLY and by CATEGORY. Ideal for students. (Double-click any word on these pages for a "pop-up" definition.)
ARCTIC WILDLIFE PORTFOLIO
From the Editors: We know full well that there are many other animals in the Arctic! If we've missed your favorite, drop us a line... but don't say "penguins."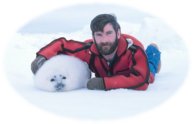 A helicopter pilot and his
buddy - a ribbon seal pup.
( The seal is on the left )
Photo: National Oceanic and
Atmospheric Administration


CANADIAN ARCTIC PROFILES: SPECIES
All of the Arctic animals and maps showing where they are during the different seasons.

LIFE IN A DEEP FREEZE
How do animals survive the Arctic's c-c-cold winters?

ARCTIC WILDLIFE
How animals are adapted to live in the Arctic - polar bear, caribou, musk ox, wolf, wolverine, arctic ground squirrel, birds, whales, harp seal and walrus.

ABOUT ARCTIC ANIMALS
A great list of links from the National Oceanic and Atmospheric Administration.

THE ARCTIC AND ITS ANIMALS
The Arctic is an exciting place full of animals. There are many types of animals that have their own habitat - and it isn't all frozen.

CANADA'S POLAR LIFE
Traditional knowledge, organisms, and lots of images.

ARCTIC ANIMAL PRINT-OUTS
Animal facts and pictures to color of Arctic animals like puffins, moose, whales, walrus and many more, or try ARCTIC ANIMALS TO PAINT ONLINE.

POLAR PROFILES
Here are the details on many Arctic animals - size, distribution, diet, predators and fun facts.

POLAR BEARS INTERNATIONAL
A site for Polar Bear lovers all over the world. All about Polar Bears including a status report.

POLAR BEARS ALIVE
Lots of Polar Bear information. Polar Bears Alive is a non-profit organization dedicated to the worldwide protection of the polar bear and its arctic habitat.

POLAR BEAR ALLEY & THE POLAR BEAR BLOG
This is a collection of northern stories - polar bear, Arctic and otherwise from Churchill, Manitoba, Canada. It follows the polar bears of western Hudson Bay during their season on land from mid-July to November.

CHURCHILL - POLAR BEAR CAPITAL OF THE WORLD
Steve Hutchens made a trip to Churchill and it was such a fascinating adventure that he set up a website when he got home. There are lots of pictures about polar bears and how people watch them.

IT'S POLAR BEAR SEASON!
An Athropolis NEWS story about the 300 or so polar bears that wander through Churchill each fall.

THE SHRINKING POLAR BEARS
A look at what science has to say about the polar bears living near Churchill, Manitoba. Scientist Ian Stirling believes they are sending a signal from the eco-system. And as he studies their declining weight and falling birth rate, he worries something may be very wrong.

WILD ANIMAL FACT SHEETS
Facts about animals from all over the world. Check out the section on Arctic and Antarctic Animals.

CANADA SEAL HUNT
This Web site is an introduction to harp and hooded seals, and the Canadian seal hunt - the largest commercial hunt of a marine mammal in the world. Read about the issues, view video and learn how you can take action! Lots of photos - including the seal hunt (viewer discretion advised).

SEAL CONSERVATION SOCIETY
With ever-increasing threats from sources such as pollution, over-fishing, marine debris, entanglement in fishing gear and intentional killing, seals worldwide have a greater need than ever for protection.

NORTHERN BREED DOGS
Northern peoples have bred dogs for 3 primary purposes - herding, assisting hunters, and for pulling sleds and other conveyances.


Mushing Terms
Mushing: General
Mushing: Racing

TEACH YOUR DOG TO PULL
Over the course of four years the author learned an incredible amount about running dogs through reading, talking to other mushers, and the inevitable trial and error.

NOAA PHOTO LIBRARY OF ARCTIC ANIMALS
A virtual boatload of fins, fur and feathers. Lots of great photos here.

NARWHAL.INFO
The only site on the internet dedicated to the gathering and sharing of information about Narwhals.

MURRES
Can you imagine a seabird that can dive almost the length of a football field straight down below the surface of the sea, and travels up to 6000 km a year in migration - covering up to 1000 km of that distance by swimming?

HINTERLAND WHO'S WHO
This is where you'll find in-depth descriptions of wildlife, discussions on issues, actions that you can take to help wildlife, and educational materials that teachers and group leaders can use.

HUMAN ROLE IN REINDEER / CARIBOU SYSTEMS
The goal of this project is to create a network that combines scientists, the user community, indigenous leaders, and those engaged in managing and protecting reindeer/caribou systems.

PORCUPINE CARIBOU HERD
This is a project that uses satellite radio collars to document seasonal range use and migration patterns of the Porcupine Caribou Herd in northern Yukon, Alaska and NWT.

ARCTIC NATIONAL WILDLIFE REFUGE
The Arctic Refuge contains remote, complete, and undisturbed lands across five different ecological regions: lagoons, beaches and saltmarshes of coastal marine areas; coastal plain tundra; alpine tundra of the Brooks Range; the forest-tundra transition south of the mountains; and tall spruce, birch, and aspen of the boreal forest.

ALL ABOUT PUFFINS
Puffins are some of the most amazing creatures on Earth. Learn about puffins by visiting this informative site.

WILDLIFE NOTEBOOK SERIES
The Alaska Department of Fish and Game has assembled a list of links for about every animal in the area.

SEAWORLD: POLAR BEARS
Sea World strives to provide an enthusiastic, imaginative, and intellectually stimulating atmosphere to help students and guests develop a lifelong appreciation, understanding, and stewardship for our environment.

POLAR BEAR TRACKER
Two polar bears. One million nine hundred thousand square kilometers of frozen arctic wilderness. Where are they? The bears are tagged with radio collars, which beam their positions via a satellite to this web site.

A REINDEER IN THE FAMILY
"When you look after a sick reindeer calf, it develops a personality and then you can never hurt it in any way." This statement from a Nenets woman illustrates the close bond that exists between Siberia's Nenets people and their reindeer. Great pictures!